Sunrise International Ministries is a growing mission organization with the vision to make disciples and equip leaders who can multiply churches in Japan and throughout Asia.
Sunrise missionaries are based in Japan and all are involved in church planting. We have started networks of churches in the Tokyo and Kobe areas. The Tokyo network has banded together to serve individuals and communities affected by the tsunami in northern Japan.
We work in seven countries throughout Asia to equip leaders and churches. Training is tailored to the specific needs of the Church in each country.
---
Cambodia and Vietnam Leadership Training


Partner with Sunrise International as we train pastors and leaders. To learn more and give online vist our Pastor's Training Giving Page
---
Nepal Earthquake Relief Update
We appreciate your continued prays and financial giving for the people of Nepal.
To learn about how Sunrise has already helped and what you can still do, follow this link.
Join with us in giving financial assistance to help the people of Nepal. Give now!
---
Cross Bible Study
We're excited that work on the Cross Bible Study is rapidly progressing. Japanese, Chinese and English editions are already in print, with four more localized editions in process. Pastors and churches across Asia are using this resource to equip disciples and multiply churches.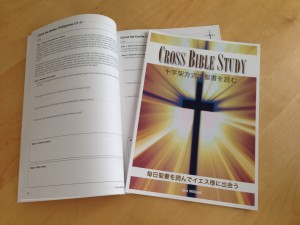 "Cross Bible Study is a simple approach to help believers encounter Christ personally through their daily time in the Word. This approach emphasizes meditating on passages in the Bible, hearing Jesus speak through those passages and obeying Jesus.
Another primary goal of Cross Bible Study is to help believers grow as a disciple of Jesus. Daily time in God's Word is a major factor in spiritual growth. In order to grow as Jesus' disciple, believers need to learn to feed continually on the Word of God.
We at Sunrise believe that Jesus speaks to us personally through the Bible. However, the goal is not just to get a nice devotional feeling or to gain intellectual knowledge during our daily time in the Word. The goal is to spend time with Jesus, to encounter Him through the Scriptures, and to obey Him.
Disciples grow by hearing and obeying Jesus. Our understanding of spiritual things and growth as His disciples increases dramatically as we obey Him in our daily lives. Cross Bible Study helps us focus on hearing Jesus speak through the Bible and on obeying Him in real life situations. Disciples grow rapidly when they love Jesus and radically obey Him.
This workbook includes three main sections: Cross Bible Study, The Wheel: Living as Disciples of Jesus, and 45 Cross Bible Studies.
Check out these photos of the Cross Bible Study in Mongol. To better fit with Mongolian culture, a yurt is used to illustrate the four points.

The Cross Bible study has now been translated into English, Bengali (Bangladesh), Vietnamese, Khmer (Cambodia), Mongolian, Mandarin Chinese, Indonesian, Japanese, Nepali, and Burmese (Myanmar). More translations are in the works, including Hindi.