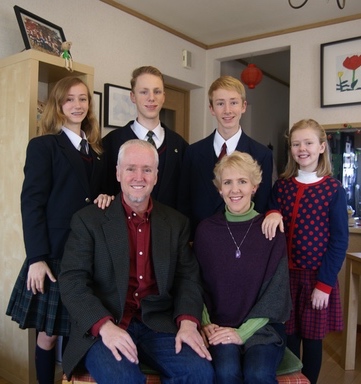 Peter and Wendi Thomson have served as missionaries in Japan since 1988 and currently reside in western Japan. They joined the Sunrise family in 2012, after serving twenty-four years with Asian Access. These two missions have collaborated and partnered for decades to proclaim the love of Christ in Japan and throughout Asia.
The Thomsons are collaborating with national partners to bring Kingdom transformation to Japan. Their desire is to see the whole of society impacted by the power of the Gospel of Jesus Christ, and do this through…
Supporting, and running, businesses based on Kingdom principles. Called "Kingdom enterprises", these businesses allow the Thomsons and their Japanese co-workers to proclaim Christ in the context of everyday life. Instead of inviting people to a worship service, they take the Kingdom to the community.
Equipping and releasing disciples of Jesus who will impact their communities through simple models and materials. Their vision is to see believers equipped and released through discipleship to live in dynamic love -relationships with Jesus. Disciples reproducing disciples.
Supporting new Kingdom communities (the Church) as they are born. The Thomsons are working to see churches planted in businesses, schools, and local communities, anyplace where life happens. With Japanese co-workers, they are developing a network to support leaders and congregations using a "simple, organic" model for church life. The focus is on 'lay' leaders who will be able to rapidly multiply.
Models and plans that focus on everyday lives of the Japanese people. Their current focus is not on 'professional' clergy, but emerging leaders serving in businesses, schools and communities.
For more information on the Thomson family or to contact them, visit their personal website. For more information on how their church interfaces with its local community, visit an outreach website.
To sign up for email updates and newsletters from the Thomsons, click here.