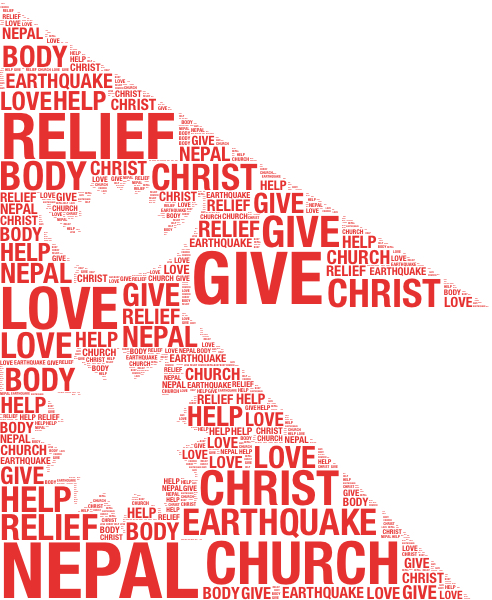 This is how we know what love is: Jesus Christ laid down his life for us. And we ought to lay down our lives for our brothers. If anyone has material possessions and sees his brother in need but has no pity on him, how can the love of God be in him? Dear children, let us not love with words or tongue but with actions and in truth. 1 John 3:16-18
Update on Nepal Earthquake Relief
December 14, 2015 by Jim Millard
We just returned from Nepal and Myanmar. It was the first session for Class V in each country. It went extremely well. We are very happy with the new class members in each country. I taught about making disciples during this first session.  They were very responsive and receptive in both countries.  Thank you for your prayers for us and for the ministry in Nepal and in M—r.
We heard many stories while we were in Nepal about the destruction caused by the earthquakes.  I have shared in previous letters about our friend Reuben.  His village of 10,000 people was totally destroyed.  Not one building was left standing!  Many people, even in Kathmandu still sleep in tents, even during this heavy rainy season.
I wish I could show you the pictures and share the testimonies of all of the people who were helped by your gifts.  YOU have given more than $40,000 through Sunrise international!  This may not be a lot compared to the need, but it meant so much to the people who received it.
We asked our friends in Nepal to distribute these funds appropriately.  We asked them to give $300 to as many churches in the hardest hit areas as possible.  We suggested that half of these funds could be given to help people in churches who are suffering, but asked that at least half of the funds be given to help people in the community.
Everyone was happy with this plan.  They were very grateful to receive these funds to meet their needs.  They were also excited to have funds to help people around them.  Our friends told us that in every village and community non-believers were talking about how Christians had helped them.  We saw many, many pictures of people from these communities.  (Our friends have pictures from each place these funds were distributed.)
I would like to ask you to continue to give for the ministry and relief efforts in Nepal.  A relatively small amount of money to us can make a life or death difference to poor people who are suffering from the flooding, mudslides and earthquakes in Nepal.
Our ministry friends are trying to provide enough tin for a family to construct a tin-roof structure in which they can live until they can rebuild their stone or cement houses.  They can cut down bamboo for free and build a simple frame.  The tin cost about $150 per family.
Will you give $150 to help a family in Nepal?  You can easily give by following this link. Thank you so much for your love, prayers and support.
Initial Report on Nepal Earthquake
April 28, 2015
Dear Friends,
By now you all have heard news reports of the tragic earthquake and destruction in Nepal. In Japan there has been non-stop coverage of what is happening in Nepal on TV. The scenes of devastation and death are heartbreaking.
I just spoke with our friend with Reuben in Nepal so I thought I should share his description of the situation there. Reuben was speaking from outside of their apartment because big tremors continue to shake the ground. Most people are afraid of the ongoing aftershocks so they are staying outside, even at night. It was raining and cold when I talked with Reuben. It is usually warm in Nepal this time of year, but it has been unusually cold now. Reuben's wife was crying because of the rain, thunder and tremors that came during our conversation.
Churches in Nepal worship on Saturdays rather than on Sundays. Reuben said that the people were gathered in the church building when the earthquake hit. It shook the building for around 5 minutes. Immediately afterwards they went into the streets and witnessed the destruction and death that the earthquake caused.
I have visited Nepal at least 30 times in the past 15 years. It is one of the poorest countries in Asia. There are many cement buildings in Kathmandu, which has a population of between 4 and 5 million people. I understand that there are building codes, but they are not observed or enforced. People build with cement and always extend rebar out of the roof in case they want to add 2 or 3 more stories to their house. (Often a house owner will rent single rooms to families so that one building may have several families living in it.)
I have thought (and said) for years that if an earthquake hit Nepal it would be very destructive because many of the buildings are so poorly built. Perhaps you have seen pictures of some of the buildings that did not fall over, but the walls and entire structure are leaning and look like they are about to collapse. I am sure that many buildings will be unsafe and unusable, even if they are still standing. Reuben thought that 10-20% of the buildings in Kathmandu are damaged or have already collapsed.
In the outlying areas and villages evidently the destruction is much worse. Reuben's own village has about 10,000 people. He said that not one house or building is left standing. His village is close to the epicenter of the quake.
I think it is safe to say that even though we see the pictures in news reports, most of us cannot image the scale of damage and destruction that has happened in Nepal. The government is reporting that around 5,000 people have died, but Reuben said this is just in Kathmandu. And it does not include the bodies that are buried beneath the rubble. About 80% of Nepalese live in remote mountain areas and are farmers. They build simple dwellings on steep mountains that are only assessable by walking. In addition to the earthquake there were also mudslides. It will take a long time before anyone will be able to report about what has happened in these remote areas.
Pray for Nepal
Please pray for the whole country. People are in fear of even going into buildings or their own homes. Pray for food, water and shelter to reach people, especially in the remote areas soon. Pray that the Church in Nepal will stand up demonstrate the love of Christ to the whole nation by serving and caring for people in need.
Please do more than pray. PLEASE GIVE! We are scheduled to be in Nepal May 17-20 for a conference with Abe Huber and around 100 Nepali leaders. I will take funds that are sent to Sunrise for Nepal on this trip and pass it directly to pastors there who will use it to meet the immediate needs of people around them.
In 2008 when the cyclone hit Myanmar 138,000 people died and 2 million were homeless. I took about $30,000 to Myanmar and distributed it to local leaders in churches. We gave around $300 to each church. We made a simple contract and asked people to agree to the following:
1. These funds will only be used for the immediate needs of hurting people to provide food, water, medicine, clothes, supplies, etc. (The will not be used for buildings, church programs, etc.)
2. Half of the funds may be used to meet the immediate needs of people in the church, but at least half of the funds must be used to help people in the community.
This plan worked very well. Local people understand who has the greatest needs and how the funds can be used most efficiently.
We will follow a similar model for this current crisis in Nepal. We may try to give each church $500, which they would agree to use on the immediate needs of people who are suffering the most.
Please Give! I will try to send this letter out as soon as possible so that we can bring funds with us. However, we will depart from Japan on May 7 so please send your gifts now! (If your contribution arrives after our departure we will find a way to send the funds another way.) To learn how to give visit Giving to Nepal Earthquake Relief. Thank you for your prayers and for your support.
Thank You,
Jim Millard